Unlocking Digital Trust for Improved Public Services in Canada
Discover how to enhance trust in digital
identity
for seamless access to Canada's online public services.
November 29, 2023 - 2 pm (EST)
Join us for an exclusive webinar
Interested in understanding the role of digital trust in modern governmental service delivery? Seeking insights on best practices?
Join distinguished experts in governmental digital transformation who will share globally-tested strategies for advancing digitization in our country.
Joni Brennan
President of The Digital Identification and Authentication Council of Canada (DIACC)
Patrick Drolet
Chief of Innovation at Portage CyberTech
Fadwa Mohanna
CEO of One37
Marc Baaklini
Chief Business Development Officer, Brainstorm CyberRisk
What You'll Learn
The current state of public opinion

regarding

digital trust in online public services

An understanding of the projected global digital economy by 20

27

An understanding of digital credentials and identification online

The potential benefits of migrating services

with digital credentials

Insights into tested global measures and opportunities to boost digital trust




Why is this Webinar Necessary?
Who is Portage CyberTech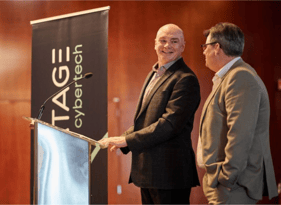 Portage CyberTech is dedicated to connecting people and organizations with trusted technological solutions and digital-first strategies. Our versatile portfolio enables governments and regulated industries to expedite their digital transformation initiatives securely, enhancing their service to clients and citizens.

Thousands of organizations and government agencies across North America rely on our solutions, serving millions of individuals. The organization supports 50,000 regulated professionals and collaborates with four provincial governments and territories.